Connect your YateBTS Lab Kit to our Core Network for free - YateBTS Hosted Core
Create an account and you can use our Core Network for testing purposes. Connect multiple Lab Kits and talk to other public users.

YateBTS Hosted Core is a public free hosted core service. It is composed of:


a YateUCN that acts as a MSC/VLR,


a YateHSS/HLR with an integrated AuC


an SMSC.

The YateBTS Lab Kits configured in roaming mode will use SIP to connect to YateUCN. YateUCN uses SS7 MAP protocol to talk to YateHSS/HLR and the SMSC.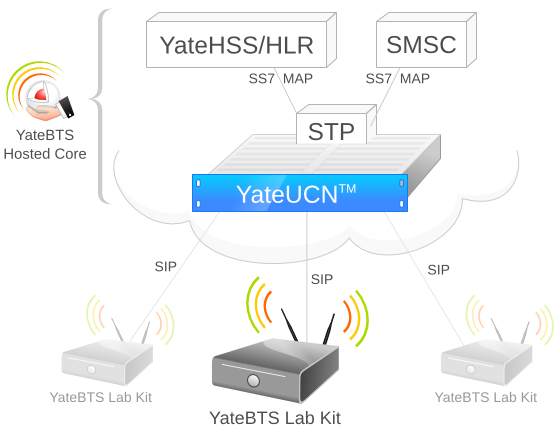 Features
The Hosted Core offers the following features:

Registration and authentication: You register your phones to our core network. 2G/3G authentication is used depending on the SIMs you use.

Calls: You can make calls between your subscribers and to other public subscribers

Handover: You can test handover between your Lab Kits

SMSs: You can send SMSs between your subscribers and other public subscribers

GPRS: offered locally on your Lab Kit, if configured

Subscriber management: Manage your subscribers from the Hosted Core YateBTS interface. You can import the subscribers defined in your NiPC GUI.

External calls: You can't call outside this network. This network is for testing purposes and we don't have a Roaming agreement

We don't have a Roaming Agreement